ETG Canada Inc. is certified under the Canadian CGP (Controlled Goods Program) which meets the requirements of the new ITAR dual national rule (section 126.18) and ensures Canadian industry and U.S. partners that CGP meets both new ITAR rules and Canadian human rights legislation.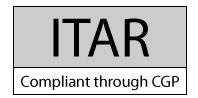 CGP and ITAR programs interoperability are detailed in the exchange of letter between the United States Directorate of Defense trade control and the Department of Public works and Government services of Canada (for more information click here).
Additional information on the exemptions that enable Canadian corporations to supply goods for US military contracts are detailed in the Code of Federal regulations (for more information click here).
Supporting Information